Additional Programs/Services
Collaboration with local private and charter schools
Pediatric Therapy Associates is proud to be active in our local community, providing education and services to children and their caregivers in their schools and daycares. Please contact us for more information regarding opportunities for education, screenings, and service provision at your local site.
Developmental Therapy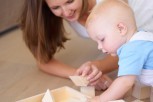 Developmental therapy is a service offered to children who have been evaluated through the Children's Developmental Services Agency (CDSA), and enrolled in the Early Intervention Program. Children enrolled in Early Intervention can receive therapy in their home, preschool/daycare, or in other natural environments. Developmental therapists address Individualized Family Service Plan (IFSP) objectives, focusing on age-appropriate play skills, educational activities, and self-help skills. Through this service, education and training are provided to caregivers to help them address their child's needs, while developmental intervention is provided to children to assist with overall skill enhancement and acquisition.
Hippotherapy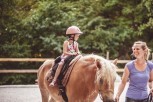 Hippotherapy is a treatment that uses the multidimensional movement of the horse. It is from the Greek word, "hippos", which means horse. Specially trained physical, occupational, and speech therapists use this medical treatment for children who have movement dysfunction. Historically, the therapeutic benefits of the horse were recognized as early as 460 BC, and this type of intervention has evolved throughout Europe, the United States, and Canada. Hippotherapy uses activities on the horse that are meaningful to the child. Treatment takes place in a controlled environment where graded sensory input can elicit appropriate adaptive responses from the child. The horse's walk provides sensory input through movement which is variable, rhythmic and repetitive. The resultant movement responses in the client are similar to human movement patterns of the pelvis while walking. The variability of the horse's gait enables the therapist to grade the degree of sensory input to the client, then use this movement in combination with other clinical treatments to achieve desired results. Clients respond enthusiastically to this enjoyable learning experience in a natural setting.Specific riding skills are not taught (as in therapeutic riding), but rather a foundation is established to improve neurological function and sensory processing. This foundation can then be generalized to a wide range of daily activities.
Physically, hippotherapy can improve balance, coordination, postural control, muscle tone, gait, mobility, and respiratory function. Hippotherapy may also improve sensory processing, cognition, behavior, and communication skills. Clients who may benefit from hippotherapy can have a variety of diagnoses including: cerebral palsy, genetic syndromes, developmental delay, traumatic brain injury, stroke, and autism spectrum disorders. There is significant research and evidence behind this tool.
Appropriate clients are within the ages of 2 to 12 years (maximum weight of 100 pounds). If the child has a diagnosis of Down syndrome, they need to be at least 3 years old. Children with Down syndrome also need to have a negative x-ray for atlantoaxial instability (AAI). An evaluation will be done to see if the child is appropriate to use this tool.
Services are provided at the Horse and Buddy Therapeutic Riding facility, located at 4728 Old US 1 Hwy, New Hill, NC 27562. For more information or to sign up, please contact our Raleigh office at (919) 781-4434.
Raleigh AMBUCS Amtryke Program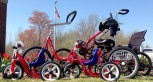 What is an amtryke? Amtrykes are bicycles designed specifically for children with special needs who are unable to ride a regular bicycle. They can be adapted for all levels of abilities to include lateral supports, head rests, harnesses, stationary foot, and stationary head cranks.
What is Raleigh AMBUCS? AMBUCS is a non-profit organization that helps individuals with disabilities. The Raleigh chapter is a group of men and women who are specifically dedicated to the amtryke bike program. Pediatric Therapy Associates, in collaboration with Raleigh AMBUCS, established the amtryke program over 10 years ago for the triangle area. The program has since helped over 100 children receive bikes. Each year two parties are held (typically in April and December) to donate bikes to children with special needs.
The bikes range in cost from $200-$1500 depending on the adaptations. Families receiving a bike are asked to help with the cost of the program by donating their bike back to the program when it is no longer being used and by making a $50 charitable contribution to be put towards more bike purchases. Members of Raleigh AMBUCS have donated more than $20,000, with other contributions coming from fundraisers and donations from members of the community.
Each child receiving a bike is required to receive an evaluation by a licensed physical or occupational therapist to determine his or her needs. Pediatric Therapy Associates provides free evaluations for the bikes at our Raleigh office. If you are interested in making a donation or for more information about the program please visit the AMBUCS web page (see link below) or call our Raleigh office (919-781-4434).
Constraint Induced Movement Therapy
Constraint Induced Movement Therapy (CIMT) is a therapy designed to specifically treat "learned non-use" of the affected arm as a result of stroke, cerebral palsy, or brachial plexus injuries. CIMT involves using a mitt to constrain the less affected arm while providing simultaneous intensive practice of movements in the hemiplegic arm. Our physical therapists are specially trained in this technique.