Make a Modular Sensory Board
September 22, 2016 | by Michelle Larson, MS OTR-L and Ashley Houser, MS OTR-L
Two of our creative and crafty Raleigh occupational therapists teamed up to design awesome modular sensory boards for our office. In today's post, they talk a little about how to use sensory boards with kids, and how you can make your own. We're on a roll, and making more boards every week, so check back for more ideas!
The central nervous system must rely on five sensory receptors in the skin to gain information about the environment. These receptors are light touch (surface), pressure (deep), temperature (hot & cold) and pain. When these receptors are not accurately reporting information, or the information is not being processed correctly in the brain, a child may demonstrate tactile defensive behaviors. It is possible for some receptors to be working normally, and for others to be sensitive. This explains why a child may enjoy firm hugs but dislike being touched lightly, or why he is sensitive to tags or haircuts.
Sensory boards have several different therapeutic purposes. Boards that provide different types of tactile input are a way for a tactile defensive child to explore different textures in a fun, non-threatening way. They can be used as a sensory regulation tool to provide sought tactile input for a fidgety, handsy, "must touch everything" type of child. In addition, they target tactile perception (or "looking with the hands," an essential foundation skill for fine motor tasks) if used with the child's vision occluded.
Making the frame itself is so easy a speech therapist could do it. (Thanks, Diane!)
Materials needed:
Large bulletin board (ours is about 2 feet by 3 feet)
Foam core board (1 sheet will make 6 individual sensory boards)
Duct tape (we used black)
1 package of 1/4 inch elastic
Exacto knife or carton cutter (use with caution and appropriate adult supervision!)
Drill and 1/4 inch bit (use with caution and appropriate adult supervision!)
Various sensory and fine motor materials, only limited by your imagination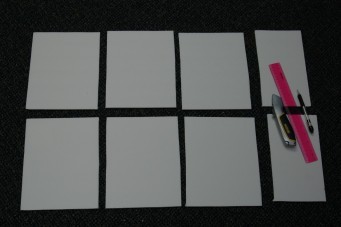 Start by cutting the foam core board into six 8 by 10 inch rectangles. You'll have some pieces leftover that you can use for another project.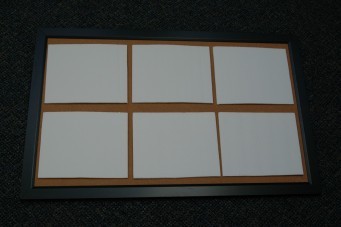 Using a Sharpie, mark where you want the holes for your elastic to be placed. The elastic bands will hook over each corner of the white boards so that they can be changed in and out (Modular, woot, woot!). Depending on the size of your bulletin board and the layout of your white boards, you may be able to use one hole for two of your elastics.
Use a power drill to drill 1/4 inch holes at each Sharpie dot. Then cut 5 1/2 inch pieces of thin elastic and thread through each hole, tying them in the back, to form "clips" for each corner of the white boards.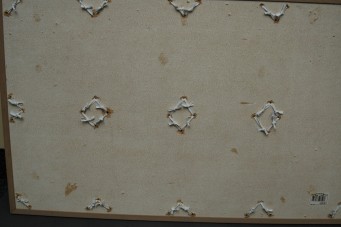 Okay, the back is pretty ugly, but no one's gonna see that, right?
Here's the finished board! So snazzy. This board will hold 6 individual white boards. And because it's modular, you can easily trade boards out for new ones when you or your child get bored or are working on more advanced skills, or you can remove individual boards and bring them to a table surface to work.
Now for the fun part, getting creative with your sensory and fine motor ideas for the individual white boards. Here are some of ours: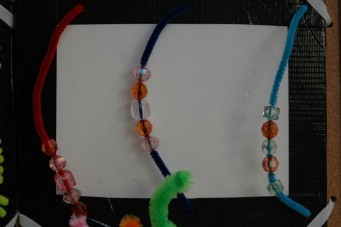 The pipe cleaners and beads practice bimanual (two-handed) coordination and pincer grasp. When the board is removed from the unit, the beads can be used as fidget tools to keep little hands busy while listening to others talk or waiting during transitions.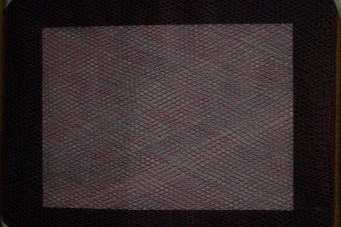 The mesh netting has a texture that can be irritating to some children, so it provides an opportunity to explore and habituate to the non-preferred tactile input. It can also be utilized for fine motor tasks such as hooking or threading objects such as Christmas ornaments or pipe cleaners through the holes. To target coloring skills for a child with poor force grading or body awareness, place a piece of paper over the mesh and color with a crayon to transfer the texture.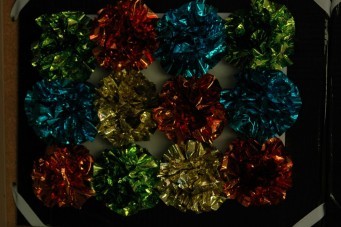 Shiny, crinkly Mylar cat toys are multi-sensory, providing visual, auditory, and tactile input. Clip matching clothespins to them to work on finger strengthening and skills such as visual scanning, depth perception, and color matching.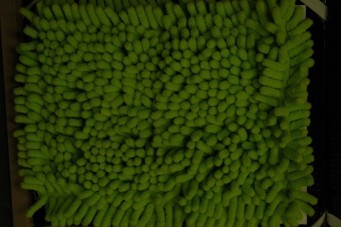 This chenille mop pad is soft and can be a soothing fidget. Brush different body parts (hands, arms, knees, feet) to increase body awareness and work on whole-body tactile processing. To target finger isolation and letter formation, use only the index finger to write letters in it.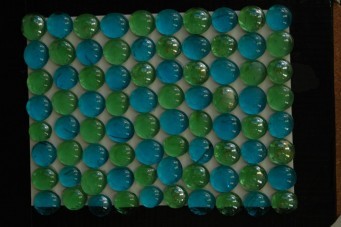 Glass rocks are a visually stimulating way to practice counting and visual discrimination skills, or simply feel the cool, bumpy texture.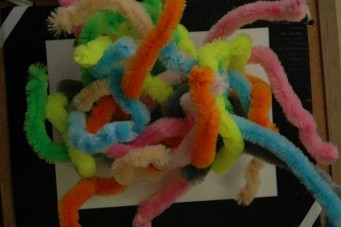 Soft and colorful jumbo pipe cleaners can be manipulated in a variety of ways to improve visual and fine motor skills. Try untangling them, threading beads, twisting them, braiding, or tying them into knots.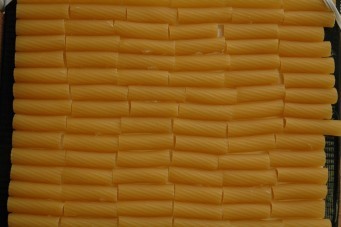 Hard and bumpy pasta can also be used for crayon transfers to paper, or turn them vertically and use a pincer grasp to place tiny objects and watch them fall to the floor. Practice visual motor skills and force grading by threading pipe clears or Wiki Stix through the pasta "tunnels." Touch and count the pasta for additional tactile input.
That's all of our ideas for today, but be sure to check back as we are busy coming up with new and exciting sensory and fine motor experiences for our kiddos!