Veronica Portrait, M.A. Special Education, Developmental Therapist, ITFS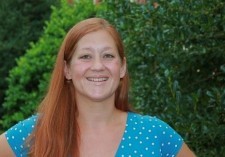 Veronica received a B.A. in 1999 from St. John's University in the area of speech pathology, with a minor in education. She worked for the New York City Board of Education for 6 years. During that time, she provided speech therapy for a wide range of developmentally and mentally challenged children and adolescents, including individuals with autism, emotional disturbances, Down syndrome and multiple disabilities. In addition, she provided speech therapy for articulation and language disorders for preschool children. Veronica received a Master's Degree in 2002 from St. John's University in the area of special education. She provided developmental and behavioral therapy for early intervention students with developmental delays in a home based setting for 6 years. Veronica also provided family training to parents and siblings of her students. She has been working as a developmental therapist for Pediatric Therapy Associates since moving to North Carolina in 2006. Her areas of expertise include language development, functional sign language, Picture Exchange Communication System (PECS), augmentative/alternative communication, Applied Behavior Analysis (ABA), and behavioral intervention. She is also licensed as a Parent as Teachers Parent Educator and is certified as an Infant Toddler and Family Specialist (ITFS). Veronica believes in routine based teaching experiences and incorporating learning into play and floor time.
Veronica lives with her husband, son, and daughter in Holly Springs. Her hobbies include traveling, reading and cooking.
Locations
Cary
1120 SE Cary Parkway, Ste 200
Cary, NC 27518
Phone: (919) 854-0404
Fax: (919) 854-0359
Garner
951 Heather Park Dr., Suite 100
Garner, NC 27529
Phone: (919) 861-1180
Fax: (919) 861-1183
Raleigh
4201 Lake Boone Trail, Ste 4
Raleigh, NC 27607
Phone: (919) 781-4434
Fax: (919) 781-5851
Wake Forest
Wake Forest Business Park, 835-A
Wake Forest, NC 27587
Phone: (919) 562-9941
Fax: (919) 562-9943