Tamika Harris, OTR/L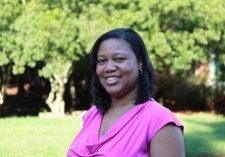 Tamika graduated from East Carolina University in 2001 with a degree in Occupational Therapy. She has worked with pediatric and adult populations in a variety of settings including: early intervention, home health, outpatient clinics, residential centers for people with multiple disabilities, and schools. Tamika has experience with a wide range of pediatric diagnoses such as cerebral palsy, Down syndrome, developmental delay, ADHD, autism spectrum disorders, handwriting difficulties, fine motor and visual motor difficulties, feeding difficulties, and sensory integration. Tamika has completed the PK Handwriting Without Tears course and several sensory integration courses, including "The Traffic Jam in my Brain." She also has experience with using the Alert Program and Zones of Regulation program to help children regulate sensory and emotional input.
In 2013, Tamika became a mother. This personal experience has made her a better therapist and has helped her become even more passionate about her work with children and families. Outside of work, Tamika enjoys spending time with her family, traveling, reading, meditation/prayer, yoga, and stamping.
Locations
Cary
1120 SE Cary Parkway, Ste 200
Cary, NC 27518
Phone: (919) 854-0404
Fax: (919) 854-0359
Garner
951 Heather Park Dr., Suite 100
Garner, NC 27529
Phone: (919) 861-1180
Fax: (919) 861-1183
Raleigh
4201 Lake Boone Trail, Ste 4
Raleigh, NC 27607
Phone: (919) 781-4434
Fax: (919) 781-5851
Wake Forest
Wake Forest Business Park, 835-A
Wake Forest, NC 27587
Phone: (919) 562-9941
Fax: (919) 562-9943