Sheryl Jewett, OTR/L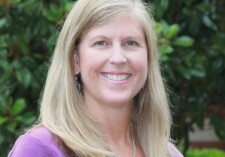 Sheryl is an occupational therapist who has many years of specialized practice in pediatrics. With over 30 years of experience in a variety of settings, she has vast knowledge and experience working with children and is able to offer families a comprehensive perspective. Sheryl believes working with infants and toddlers in their natural environment maximizes their potential for progress, with foundational skills leading to fine motor development, better feeding, sensory organization and early self-care skills. Sheryl has served infants in the NICU setting and has a passion for addressing their unique needs ongoing in the home. Feeding infants is one specialty area in which Sheryl is skilled. Another is incorporating family education into each therapy session to promote optimal carry over. Sheryl enjoys working with children with a variety of diagnoses including: developmental delay, prematurity, tonal abnormalities, brachial plexus injury, sensory processing disorders, neurological disorders, and cerebral palsy. Sheryl received her BS in Occupational Therapy from the University of Wisconsin in Madison in 1987.
When not working with children, she enjoys her family, gardening, cooking, kayaking, crafting, and being involved with her church family.
Locations
Cary
1120 SE Cary Parkway, Ste 200
Cary, NC 27518
Phone: (919) 854-0404
Fax: (919) 854-0359
Garner
951 Heather Park Dr., Suite 100
Garner, NC 27529
Phone: (919) 861-1180
Fax: (919) 861-1183
Raleigh
4201 Lake Boone Trail, Ste 4
Raleigh, NC 27607
Phone: (919) 781-4434
Fax: (919) 781-5851
Wake Forest
Wake Forest Business Park, 835-A
Wake Forest, NC 27587
Phone: (919) 562-9941
Fax: (919) 562-9943