Sarah E. Kinnarney, M.A., CCC-SLP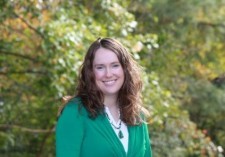 Sarah received a Bachelor of Arts in Linguistics in 2002 from the University of North Carolina at Chapel Hill with a minor in Cognitive Science. She then went to the University of Iowa where she obtained a Master of Arts in Speech-Language Pathology in 2004. During her graduate coursework, Sarah completed a thesis examining the word-learning abilities of children with cochlear implants. Sarah has worked exclusively in pediatrics in a variety of settings including: home health, day-cares, public school and preschools, inpatient clinics, and in an outpatient clinic specializing in diagnostic evaluations. She has experience in the evaluation and treatment of children with a variety of diagnoses such as apraxia of speech, articulation and phonology disorders, autism spectrum disorders, cleft palate, developmental delays, Down syndrome, expressive and receptive language delays, fluency disorders, hearing loss, and oral motor/feeding/swallowing disorders.
Sarah lives in Raleigh with her husband, three young sons, and cat. In her spare time she enjoys reading, cooking, and music.
Locations
Cary
1120 SE Cary Parkway, Ste 200
Cary, NC 27518
Phone: (919) 854-0404
Fax: (919) 854-0359
Garner
951 Heather Park Dr., Suite 100
Garner, NC 27529
Phone: (919) 861-1180
Fax: (919) 861-1183
Raleigh
4201 Lake Boone Trail, Ste 4
Raleigh, NC 27607
Phone: (919) 781-4434
Fax: (919) 781-5851
Wake Forest
Wake Forest Business Park, 835-A
Wake Forest, NC 27587
Phone: (919) 562-9941
Fax: (919) 562-9943