Sarah Zodrow, Administrative Professional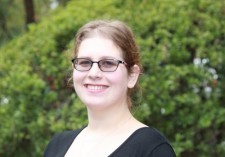 Sarah has a degree in psychology from The University of Wisconsin-Milwaukee. She moved to Raleigh in October of 2017, and joined the billing department of Pediatric Therapy Associates. Sarah enjoys helping others. Before joining the Pediatric Therapy Associates team, she worked with children on the autism spectrum for 6 years.
Sarah is enjoying her new home in North Carolina, especially the lack of snow. Her interests include reading, travelling to Asheville to visit family, and cheering on the Packers.
Locations
Cary
1120 SE Cary Parkway, Ste 200
Cary, NC 27518
Phone: (919) 854-0404
Fax: (919) 854-0359
Garner
951 Heather Park Dr., Suite 100
Garner, NC 27529
Phone: (919) 861-1180
Fax: (919) 861-1183
Raleigh
4201 Lake Boone Trail, Ste 4
Raleigh, NC 27607
Phone: (919) 781-4434
Fax: (919) 781-5851
Wake Forest
Wake Forest Business Park, 835-A
Wake Forest, NC 27587
Phone: (919) 562-9941
Fax: (919) 562-9943