Renee M. Roorda, MSPT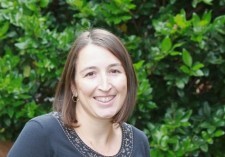 Renee graduated from Nazareth College of Rochester with a Master of Science in Physical Therapy in 2001. Since that time she has worked with both geriatric and pediatric populations, concentrating her efforts in pediatrics since 2002. She has been with Pediatric Therapy Associates since 2003. Renee gained a variety of pediatric experience working in homes, clinic settings, schools, and at Hilltop Home in Raleigh, where she worked with severe and profoundly handicapped children. Renee has always worked in Early Intervention. Through Early Intervention she has provided services to children ages birth to three and their families, making it the primary focus of her current practice. She has experience evaluating and treating children with various diagnoses including cerebral palsy, prematurity, spina bifida, torticollis, sensory dysfunction, Down syndrome, hydrocephalus, Rett syndrome, Angelman syndrome, and other orthopedic, genetic and neurological conditions. Renee has also been trained in orthotic prescription and fabrication, and she has taken continuing education courses in areas of Sensory Integration and Pediatric Gait.
Renee currently works part time, spending much of her time with her 3 growing children. She and her family enjoy traveling, reading, sports, and cooking.
Locations
Cary
1120 SE Cary Parkway, Ste 200
Cary, NC 27518
Phone: (919) 854-0404
Fax: (919) 854-0359
Garner
951 Heather Park Dr., Suite 100
Garner, NC 27529
Phone: (919) 861-1180
Fax: (919) 861-1183
Raleigh
4201 Lake Boone Trail, Ste 4
Raleigh, NC 27607
Phone: (919) 781-4434
Fax: (919) 781-5851
Wake Forest
Wake Forest Business Park, 835-A
Wake Forest, NC 27587
Phone: (919) 562-9941
Fax: (919) 562-9943