Morgan Berliner, MS, CCC-SLP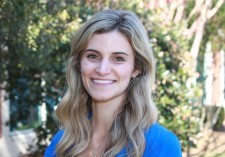 Morgan is from Raleigh, North Carolina. She graduated with a Bachelor of Science in Communication Sciences and Disorders from East Carolina University in 2013 and then earned a Master of Science in Speech-Language Pathology from East Carolina University in 2015. Morgan's clinical experiences include working with adults and children in the inpatient rehab and outpatient setting as well as in-home and school settings. Morgan has treated and evaluated individuals with dysphagia, dysarthria, apraxia of speech, articulation and phonological disorders, language disorders, fluency disorders, traumatic brain injuries, neurodegenerative disorders, aphasia, autism spectrum disorder, and craniofacial anomalies. Through her most recent clinical experience, Morgan also gained special interest in feeding and swallowing disorders. Morgan is licensed by the board of North Carolina and has her Certificate of Clinical Competence from the American Speech Language Hearing Association.
Morgan currently lives in Raleigh with her husband Max. In her free time she enjoys being outside, spending time with her friends and family, shopping, and going to the beach.
Locations
Cary
1120 SE Cary Parkway, Ste 200
Cary, NC 27518
Phone: (919) 854-0404
Fax: (919) 854-0359
Garner
951 Heather Park Dr., Suite 100
Garner, NC 27529
Phone: (919) 861-1180
Fax: (919) 861-1183
Raleigh
4201 Lake Boone Trail, Ste 4
Raleigh, NC 27607
Phone: (919) 781-4434
Fax: (919) 781-5851
Wake Forest
Wake Forest Business Park, 835-A
Wake Forest, NC 27587
Phone: (919) 562-9941
Fax: (919) 562-9943