Megan Puryear, M.A., CCC-SLP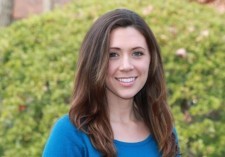 Megan graduated with a Bachelor of Arts in Communication Sciences and Disorders with a minor in Exceptional Education from James Madison University in Virginia in 2013. She then went on to earn a Master of Arts in Speech-Language Pathology from Hofstra University on Long Island, New York in 2015. As part of her graduate studies, Megan obtained experience working with children in an elementary school and in an early language facilitation group, as well as with adults in a skilled nursing facility. Megan has worked in the school setting since graduating, and is excited to use her diverse experience with the pediatric population in the private setting. She is experienced in the evaluation and treatment of children with a variety of diagnoses including receptive and expressive language delays and disorders, articulation and phonological disorders, autism spectrum disorders, developmental delays, childhood apraxia of speech, fluency disorders, and cleft palate.
In her free time, Megan enjoys being outside, going to the beach, traveling, working out, and spending time with her husband and family and friends.
Locations
Cary
1120 SE Cary Parkway, Ste 200
Cary, NC 27518
Phone: (919) 854-0404
Fax: (919) 854-0359
Garner
951 Heather Park Dr., Suite 100
Garner, NC 27529
Phone: (919) 861-1180
Fax: (919) 861-1183
Raleigh
4201 Lake Boone Trail, Ste 4
Raleigh, NC 27607
Phone: (919) 781-4434
Fax: (919) 781-5851
Wake Forest
Wake Forest Business Park, 835-A
Wake Forest, NC 27587
Phone: (919) 562-9941
Fax: (919) 562-9943