Kate McGee, MOT, OTR/L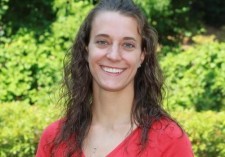 Kate earned a Bachelor's Degree in Occupational Science from the University of Missouri in 2006. She then obtained a Master's Degree in Occupational Therapy from the University of Missouri in 2008. After graduation, she worked in a variety of pediatric settings including outpatient clinics, homes, daycares, and early intervention settings. Kate has experience with a wide range of diagnoses including: autism, developmental delay, cerebral palsy, Down syndrome, fine motor and visual perceptual/motor issues, sensory processing disorders, and a variety of other syndromes and disabilities. Some of the continuing education courses Kate has attended include: Handwriting Without Tears, Brain Gym, and Interactive Metronome. She has also taken courses to further her knowledge in providing therapy to children with neurological disorders and sensory processing disorders.
Kate is originally from southern Illinois, and loves visiting with family and friends whenever possible. In her free time, Kate enjoys spending time with her husband, traveling, scuba diving, being outdoors, and playing with her dog and cat.
Locations
Cary
1120 SE Cary Parkway, Ste 200
Cary, NC 27518
Phone: (919) 854-0404
Fax: (919) 854-0359
Garner
951 Heather Park Dr., Suite 100
Garner, NC 27529
Phone: (919) 861-1180
Fax: (919) 861-1183
Raleigh
4201 Lake Boone Trail, Ste 4
Raleigh, NC 27607
Phone: (919) 781-4434
Fax: (919) 781-5851
Wake Forest
Wake Forest Business Park, 835-A
Wake Forest, NC 27587
Phone: (919) 562-9941
Fax: (919) 562-9943