Jennifer Walnoha, MS, OTR/L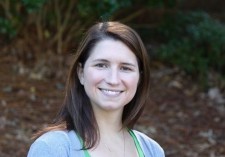 Jen earned a Bachelor of Arts Degree in Psychology from Saint Mary's College in Notre Dame, Indiana in 2006. She received a Master's degree in Occupational Therapy from Washington University in St. Louis in 2008. Jen's desire to work with children increased during clinical rotations as a student at Cincinnati Children's Hospital and Carle Foundation Hospital. Jen started her career with Carle Foundation Hospital in Champaign-Urbana, IL as an outpatient pediatric OT. She gained experience with a wide range of diagnoses including autism, sensory processing difficulties, cerebral palsy, fine/visual motor delays, torticollis and developmental delays. Jen has furthered her education by taking courses in "Handwriting Without Tears," sensory processing, NDT, and torticollis.
Jen relocated from the Midwest to join our team. In her free time, she loves to run, watch Notre Dame Football, and travel to spend time with family and friends scattered across the country.
Locations
Cary
1120 SE Cary Parkway, Ste 200
Cary, NC 27518
Phone: (919) 854-0404
Fax: (919) 854-0359
Garner
951 Heather Park Dr., Suite 100
Garner, NC 27529
Phone: (919) 861-1180
Fax: (919) 861-1183
Raleigh
4201 Lake Boone Trail, Ste 4
Raleigh, NC 27607
Phone: (919) 781-4434
Fax: (919) 781-5851
Wake Forest
Wake Forest Business Park, 835-A
Wake Forest, NC 27587
Phone: (919) 562-9941
Fax: (919) 562-9943