Dena Agapito, MS, OTR/L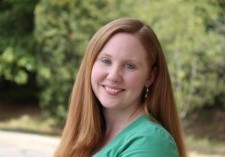 Dena earned a Bachelor of Science Degree in Exercise Science from Appalachian State University in 2007. She graduated with a Master of Science Degree in Occupational Therapy from Winston Salem State University in 2009. Dena completed a clinical rotation at Pediatric Therapy Solutions in Brevard, NC as a graduate student. During that time, she extended her knowledge of pediatrics and increased her interest in working with children in the outpatient, public school system, and early intervention settings. Dena began her career in skilled nursing with the elderly and also with adults in the inpatient rehabilitation setting, but always desired to return to pediatrics. Dena has experience with a wide range of diagnoses including: sensory integration dysfunction, developmental delay, autism spectrum disorders, feeding difficulties, handwriting difficulties, cerebral palsy, Down syndrome, oppositional defiant disorder, and fine motor delays. Some of the continuing education courses Dena has attended include: "Movement, Rhythm, and Sequencing: A Sensory Vestibular and Therapeutic Listening Course," "Handwriting Without Tears Print Tool," the "Handwriting Without Tears pre-k and k-5" and "Therapeutic Pediatric Yoga and Mindfulness" courses. She is also trained in the Basic SOS (Sequential Oral Sensory) Approach to Feeding, DIR/Floortime, the Alert program, Blomberg Rhythmic Movement Training (BRMT), and Interactive Metronome (IM). She also has taken an early intervention course to learn play strategies to improve deficits in motor skill development.
Outside of work, she enjoys spending time with her husband and son, born in June, 2016. Her hobbies and activities include: church activities, reading, exercising, cooking healthy meals, and watching movies.
Locations
Cary
1120 SE Cary Parkway, Ste 200
Cary, NC 27518
Phone: (919) 854-0404
Fax: (919) 854-0359
Garner
951 Heather Park Dr., Suite 100
Garner, NC 27529
Phone: (919) 861-1180
Fax: (919) 861-1183
Raleigh
4201 Lake Boone Trail, Ste 4
Raleigh, NC 27607
Phone: (919) 781-4434
Fax: (919) 781-5851
Wake Forest
Wake Forest Business Park, 835-A
Wake Forest, NC 27587
Phone: (919) 562-9941
Fax: (919) 562-9943