Christie Watson, MPT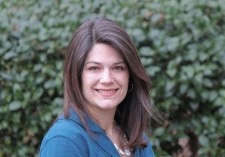 Christie graduated with honors from North Carolina State University in 1995, receiving a Bachelor of Science degree in Zoology/Pre-Med. Knowing that physical therapy was what she wanted to do, it was necessary to spend some time at the "other" school. In 1998 she graduated from the University of North Carolina with a Master's Degree in Physical Therapy. While her career has allowed her to treat both kids and adults in many different settings from homes to hospitals, pediatrics has always been her passion. Christie has worked in the field of pediatrics for the past 10 years and has a wide array of experience with varied diagnoses such as torticollis, developmental delay, genetic abnormalities, cerebral palsy, orthopedic/sports injuries, hypotonia, brain injury, and Down Syndrome just to name a few. She also has specialized training in pediatric aquatic therapy, neurodevelopmental treatment (NDT), and neurologic rehabilitation.
Christie has a fun-filled personality that will quickly put you and your child at ease. She also has a natural ability to explain in easy-to-understand terms the science behind the therapy. Having grown up with a special needs sibling herself, Christie brings a personal insight into working with families of special needs children. She is a mom to three incredible kiddos of her own! In her free time, she loves to paint, spend time outdoors with her family, and volunteer in her community and church.
Locations
Cary
1120 SE Cary Parkway, Ste 200
Cary, NC 27518
Phone: (919) 854-0404
Fax: (919) 854-0359
Garner
951 Heather Park Dr., Suite 100
Garner, NC 27529
Phone: (919) 861-1180
Fax: (919) 861-1183
Raleigh
4201 Lake Boone Trail, Ste 4
Raleigh, NC 27607
Phone: (919) 781-4434
Fax: (919) 781-5851
Wake Forest
Wake Forest Business Park, 835-A
Wake Forest, NC 27587
Phone: (919) 562-9941
Fax: (919) 562-9943