Carly Kohler, MS, OTR/L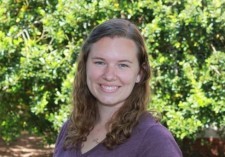 Carly earned a Bachelor of Science degree in Health and Occupation, and a Master of Science degree in Occupational Therapy from Elizabethtown College in Elizabethtown, Pennsylvania. Carly has had a passion for working with children and occupational therapy since high school, when she volunteered her time in an outpatient pediatric clinic, and an elementary school. During her undergraduate and graduate studies, Carly had the opportunity to complete clinical rotations in a variety of settings, including private practice clinics, a day and residential school program, and the acute care and intensive care units of a hospital. Carly began her career at a pediatric private practice in Northern Virginia which specialized in sensory integration and DIR/Floortime. Carly has obtained specialty training in Interactive Metronome, Therapeutic Listening, The Alert Program, Basic DIR/Floortime, and Handwriting Without Tears.
Carly relocated to the Raleigh area in December 2016 with her husband, Kyle. Outside of work, Carly enjoys spending time with family and friends, playing with her pet cat and rabbit, going to the beach, and spending time outdoors.
Locations
Cary
1120 SE Cary Parkway, Ste 200
Cary, NC 27518
Phone: (919) 854-0404
Fax: (919) 854-0359
Garner
951 Heather Park Dr., Suite 100
Garner, NC 27529
Phone: (919) 861-1180
Fax: (919) 861-1183
Raleigh
4201 Lake Boone Trail, Ste 4
Raleigh, NC 27607
Phone: (919) 781-4434
Fax: (919) 781-5851
Wake Forest
Wake Forest Business Park, 835-A
Wake Forest, NC 27587
Phone: (919) 562-9941
Fax: (919) 562-9943