Bethany Wilks, M.S., CCC-SLP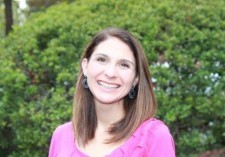 Bethany graduated from The University of Georgia with a Bachelor of Science in Education in Communication Sciences and Disorders. She then went on to obtain a Master of Science in Communication Disorders from Marshall University. She has clinical experience working with the adult and pediatric populations in a variety of settings including skilled nursing and assisted living facilities, home health, acute care hospitals, elementary schools, preschools, and early intervention. Bethany has also previously worked as a preschool teacher. She has pediatric experience in the evaluation and treatment of articulation disorders, phonological processing disorders, receptive and expressive language disorders/delays, fluency, and autism spectrum disorders. She also has advanced training in the Picture Exchange Communication System. She has a passion for working with children and their caregivers.
Bethany lives in Raleigh with her husband, three children, dog and cat. She enjoys spending time with her family and friends, meeting new people, singing, serving with her church, and being outdoors.
Locations
Cary
1120 SE Cary Parkway, Ste 200
Cary, NC 27518
Phone: (919) 854-0404
Fax: (919) 854-0359
Garner
951 Heather Park Dr., Suite 100
Garner, NC 27529
Phone: (919) 861-1180
Fax: (919) 861-1183
Raleigh
4201 Lake Boone Trail, Ste 4
Raleigh, NC 27607
Phone: (919) 781-4434
Fax: (919) 781-5851
Wake Forest
Wake Forest Business Park, 835-A
Wake Forest, NC 27587
Phone: (919) 562-9941
Fax: (919) 562-9943