Aubrey Clark, MS, OTR/L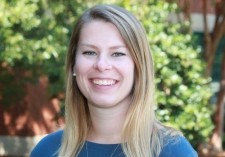 Aubrey obtained her Master of Science degree in Occupational Therapy from Keuka College in the Finger Lakes region of New York. During her graduate studies, she completed her first fieldwork in an outpatient and home health setting where she worked with adults with a variety of diagnoses including orthopedic surgeries, spinal cord injuries, stroke, and other general medical conditions. Her second fieldwork was completed in a preschool setting. In that setting, she was able to work with children with autism spectrum disorders, fine motor delays, Down syndrome, and cerebral palsy. Aubrey also had the opportunity to complete an internship every year at Keuka, allowing her to experience a variety of other practice settings including: school, skilled nursing facility, day camp, and day habilitation facility. In these settings, she enjoyed working with other professionals to improve the lives of her patients.
Aubrey relocated from Western New York in September, 2017. Outside of work, she enjoys kayaking/swimming, day trips to the beach, playing with her puppy, and visiting new restaurants!
Locations
Cary
1120 SE Cary Parkway, Ste 200
Cary, NC 27518
Phone: (919) 854-0404
Fax: (919) 854-0359
Garner
951 Heather Park Dr., Suite 100
Garner, NC 27529
Phone: (919) 861-1180
Fax: (919) 861-1183
Raleigh
4201 Lake Boone Trail, Ste 4
Raleigh, NC 27607
Phone: (919) 781-4434
Fax: (919) 781-5851
Wake Forest
Wake Forest Business Park, 835-A
Wake Forest, NC 27587
Phone: (919) 562-9941
Fax: (919) 562-9943