Ashley Houser, MS, OTR/L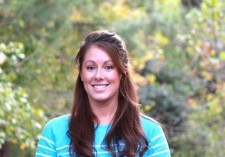 Ashley obtained a B.S. in Exercise Science with a minor in Psychology from the University of North Carolina at Wilmington. While in school at UNCW, she volunteered at New Hanover Regional Medical Center in the outpatient pediatric occupational therapy department. During her time as a volunteer, Ashley fell in love with occupational therapy. She then attended Philadelphia University to complete her Master of Science in Occupational Therapy. While pursuing her degree, she became certified as a personal trainer and devised workout plans for high school athletic teams, aerobics classes, and individuals. After graduating in 2008, Ashley began her career with OT Solutions, Inc; a private pediatric therapy practice in Wilmington, NC. She worked with OT Solutions for a little over two years treating patients in their homes and at local daycares. During that time, Ashley gained valuable experience evaluating and treating children with a variety of diagnoses including Sensory Processing Disorder, Down syndrome, Cerebral Palsy, Pervasive Developmental Disorder, feeding difficulties, fine/visual motor skills, and developmental delay. In September 2010, Ashley joined the team of therapists at Pediatric Therapy Associates. Ashley has additional pediatric training in Therapeutic Listening and specialized TEACCH techniques for autism spectrum disorders.
Outside of work, Ashley enjoys spending time with family and friends, traveling, beaches, outdoor activities, taking dance classes, and practicing yoga.
Locations
Cary
1120 SE Cary Parkway, Ste 200
Cary, NC 27518
Phone: (919) 854-0404
Fax: (919) 854-0359
Garner
951 Heather Park Dr., Suite 100
Garner, NC 27529
Phone: (919) 861-1180
Fax: (919) 861-1183
Raleigh
4201 Lake Boone Trail, Ste 4
Raleigh, NC 27607
Phone: (919) 781-4434
Fax: (919) 781-5851
Wake Forest
Wake Forest Business Park, 835-A
Wake Forest, NC 27587
Phone: (919) 562-9941
Fax: (919) 562-9943