Alison K. Byrum, MS, OTR/L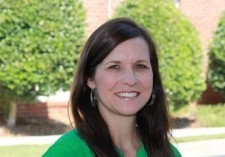 Alison earned a Bachelor of Arts Degree in Psychology with a Minor in Biology from Meredith College in 2000. In 2003, she graduated with a Master of Science Degree in Occupational Therapy from The University of North Carolina at Chapel Hill. Alison completed clinical rotations at Shriner's Hospital for Children, Wake County Public Schools and various other adult settings as a graduate student. Alison began her career working in home health, followed by full time employment with Franklin County Schools. During her time working in the school setting, she also extended her knowledge of pediatrics by working with children in the NC Infant Toddler Program. Periodically, Alison has also practiced in the inpatient rehabilitation setting with aging adults. Alison has over 13 years of experience with a wide range of diagnoses including: sensory integration dysfunction, developmental delays, autism spectrum disorder, feeding difficulties, handwriting difficulties, cerebral palsy, Down syndrome, oppositional defiant disorder, fine/visual motor delays, stroke, traumatic brain injures, dementia and various other conditions.
Outside of work, Alison enjoys spending time with her husband, three children (3, 7, 9 years old) at various sporting and community activities, gardening, shopping, visiting the beach, traveling and DIY projects.
Locations
Cary
1120 SE Cary Parkway, Ste 200
Cary, NC 27518
Phone: (919) 854-0404
Fax: (919) 854-0359
Garner
951 Heather Park Dr., Suite 100
Garner, NC 27529
Phone: (919) 861-1180
Fax: (919) 861-1183
Raleigh
4201 Lake Boone Trail, Ste 4
Raleigh, NC 27607
Phone: (919) 781-4434
Fax: (919) 781-5851
Wake Forest
Wake Forest Business Park, 835-A
Wake Forest, NC 27587
Phone: (919) 562-9941
Fax: (919) 562-9943